Choosing the Best Content Management System for Your Business
9-15-2017
Selecting the right Content Management System (CMS) for your organization is crucial for taking control of your website content. A CMS allows users with no background in HTML or CSS to easily add, edit, and remove content. Modern CMSs allow users to add text, graphics, video, and audio – and some even support embedded interactive elements like maps or other simple applications.
Leverage Your CMS to Work for You
A CMS enables non-technical users to add and maintain content without the need to 'contact IT'. Since HTML, CSS, or any programming language is not required, staff can quickly add images, text, and change settings on their own terms. The tool which gives administrators the flexibility and freedom of owning their content is a "What You See Is What You Get" (WYSIWYG) Editor. Most WYSIWYG Editors have features that are very similar to Microsoft Word like text styling, hyperlinks, and adding in-line images.
Another great feature is that most CMS' are built for teams; they can be set up to restrict 'publishing rights' to managers, while giving non-managers the ability to add and edit content. By allowing multiple permission levels, multiple team members can contribute to the website content and help support the collective time spent updating and managing content. With numerous content contributors involved, we recommend that all content is reviewed prior to posting to ensure accuracy and consistency in tone.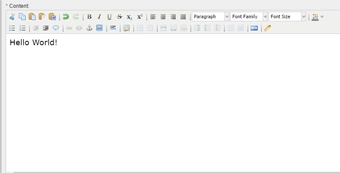 Custom CMS versus Off-the-Shelf CMS
There are numerous types of Content Management Systems: proprietary, custom CMS, and many off-the-shelf solutions. Choosing the right solution for your company is integral to keeping your website fresh and costs manageable. The most popular off-the-shelf CMS by far is WordPress. According to W3techs.com, around 28% of websites use WordPress to some extent.
One of the major selling points for WordPress is pricing; WordPress allows you to run a personal site with their built-in ads for free. WordPress is also Open Source and has hundreds of easy-to-use, community-created plug-ins that are painless additions to your site. If all you need is a simple site to display content, WordPress and other off-the-shelf CMSs (e.g. Squarespace and Wix) are great options.
For more complex offerings, especially for businesses, an off-the-shelf solution might not be enough. If your website needs to do any of the following, we suggest looking into custom CMS options: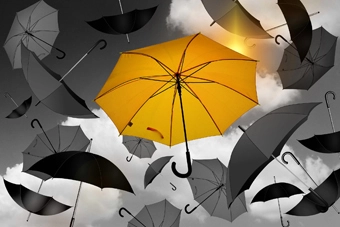 Capture and/or store information about site visitors
Allow users to save custom settings or interact with tools and applications
Upload your own content (text, images, downloadable files, and links) on all pages
Advanced workflows (Marketing, E-mail List Management, Event Management/Registration, etc.)
High performance and fast page-load times
Customized User Interface (UI)
Multi-website support and management
Multilingual support
Manage/update interactive content
Custom integrations
Choosing a custom built CMS can make managing complex tasks and business processes a breeze. Also, off-the-shelf CMSs like WordPress offer lots of different templates that dictate the look and feel of your website but often aren't very flexible, if you want a specific style that templates do not offer, a custom built CMS is the best approach as it eliminates design restrictions. Additionally, many off-the-shelf CMSs will charge you extra if you want to add tools like Google Analytics – which helps you monitor your site traffic and what pages are the most popular. If you want more control of the design of your website, a custom CMS might be right for you.
Making the Big Decision
If you need help determining whether a custom or off-the-shelf CMS is best for you, ask yourself the following questions:
What functionality will my website need?

Are all pages public, or do some require a login?
Will the website need to pull in or store information within a database?

Is speed important to you?

Is your site already lagging? Off-the-shelf CMSs like WordPress are a one-size-fits-all package with often unused parts; this can have a meaningful impact on the site's performance. With a custom-built CMS, you are only getting the features you need.

Is security important to you?

Do you have some content that you only want specific users to access, content behind a log-in screen or Pay Wall? If so, most off-the-shelf CMS's are quite limited in this respect. However, a custom CMS can give you full control over who can access what sections of your site and what they can do there.
For additional information to help inform your CMS decision, check out this article by A List Apart.
Cool features that we look for in Content Management Systems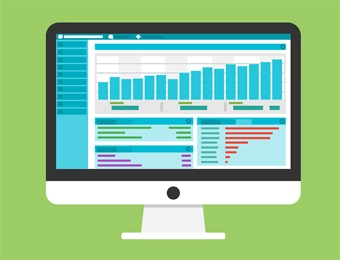 Responsive
Today there are many ways to access the Internet. Many users are accessing content from their phone or tablet rather than their desktop. A good CMS will scale content to fit best on any device without any help from the content creator. Team members should also be able to enter their text, add images, and other assets and not worry about how it will display on an iPhone versus a Desktop.
Intuitive
One of the most important parts of a CMS is that it is easy to use! It is, after all a tool to make editing content easy for non-tech-savvy users. Features like dragging and dropping images from your Desktop to your Media Section and easily searching and re-organizing your media and assets should be included in the CMS that you choose. Users should easily be able to create, rename, and re-order pages, as well as add links to those created pages. It should be simple to add external assets like YouTube videos or Facebook links. If an off-the-shelf CMS you are considering doesn't offer these features, we advise that you continue shopping.
Custom
Capabilities are endless with a custom CMS. An experienced development team can design and develop a system that does everything required to fulfill the business' needs. Unique work processes can be managed within a custom CMS by having unique Admins to manage the following:
Accounting and e-Commerce transactions
Reporting tools to run custom reports
Email marketing template creation with ability to send through the CMS
Event management and registration
Project/Product management
It is important to remember that CMSs are supposed to make your job easier – not harder. If your business needs aren't supported by your current CMS or you need help choosing which CMS option to go with, contact us to schedule a free consultation to strategize the best solution for your business. By working with stakeholders and the users of the website or application, we can discover, develop, and implement solutions to streamline workflow in the CMS and ensure that it is scalable for future enhancements.