Tips to Plan Your Business' Digital Transformation (DT)
6-15-2020
What is Digital Transformation and Digital Disruption?
Digital Transformation (DT) occurs when businesses and organizations integrate technology into all aspects of their business. DT helps businesses adhere to customer's changing needs and ever evolving business requirements. DT has allowed businesses to automate processes, provide a better customer experience (CX), and create memorable interactions with technology. Great web experiences empower users and encourage natural re-engagement on the platform(s).
Technology advancements have been occurring for years, but are happening at a much faster rate. The evolution of artificial intelligence (AI) and machine learning (ML) is driving competition in our current digital landscape. Businesses now need to react quickly to keep up with competition and continue to meet and exceed their users' expectations.
Digital disruption is another term you may be familiar with. Digital disruption occurs when customer needs are shifting to digital innovations like internet of things (IoT) and on-demand apps. An example of digital disruption is how Uber and Lyft have affected the taxi industry with just a few clicks of a button. The meaning of "disruption" sounds negative, but it can be a positive change driver for organizations – don't shy away from being the disruptor.
Planning Your Organization's Digital Transformation
Planning your organization's digital transformation doesn't begin with analyzing cutting-edge technology. In order to effectively innovate your technology, you need to consider the four different types of digital transformation in the planning stages:
Business Process Transformation: This is typically a large focal point for many businesses. Utilizing technology to automate workflows and incorporate business intelligence tools is a great way for a business to sets ROI goals that are measurable before selecting any new technology.
Business Model Transformation: This type of transformation occurs when your organization's goals are to utilize technology to transform traditional business models; this is not a quick turnaround. Roll-out of business model changes need to be strategic; it's important that businesses release new technology to their users but offer customers an option to continue to operate using tried-and-true business models until they feel comfortable.
Domain Transformation: We often see this type of business transformation within the fortune 500 space. These corporations have the capital and global marketing influence to expand into a different market domain with a big head start. Google Home is a great example of how Google utilized a digital disruption (IoT, AI, and ML) to expand their domain even further.
Culture Transformation: This is arguably one of the most important things to consider when planning your digital innovation. People typically don't like change, so your business' digital evolution need to create value. Agile workflows are a great way to drive growth, innovation, and excitement for the future of your organization. Whenever possible, bring many departments into the planning processes to ensure the direction that is chosen is flexible for all team members.
A•VIBE offers a Discovery Workshop to assist with planning digital transformations. Ever business and organization has unique processes and goals, we can help you determine the path forward that will make the biggest impact on your business.
Digital Transformation Trends – Customer Experience (CX)
Chief Digital Officer at Coca Cola memorably puts it, "It's about disrupting ourselves before someone else disrupts us." A 2020 Digital Transformation Trend report by Adobe states that customer experience (CX) investments are set to rise in 2020; C-suite ranks CX optimization as the "greatest opportunity" in 2020. Stating that about half (51%) of C-suite executives are planning to increase their CX-related technology spending.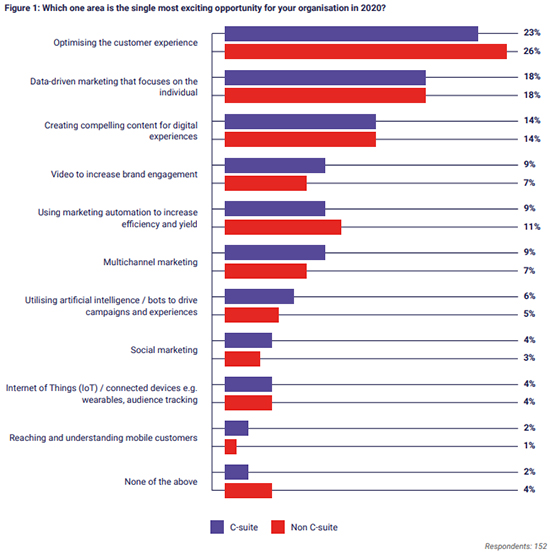 Adobe's report also shows that only 13% of C-suite respondents say that their marketing and CX technology is highly integrated. A key aspect of successful digital transformation is scalable infrastructure to ensure your new technology with adapt to your evolving business goals.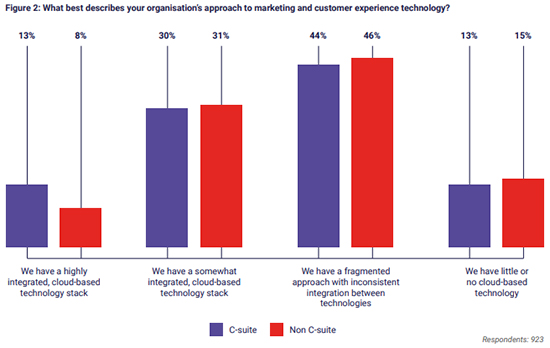 Rethinking business processes helps inform ROI measures and potential cost saving when investing in new technology or setting your technology budget. Customer journey management is crucial to an organization's CX success. Your investments will not go unnoticed by your clients when their experience is a focus of your tech initiatives.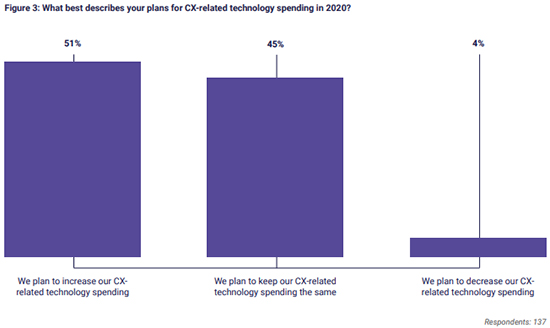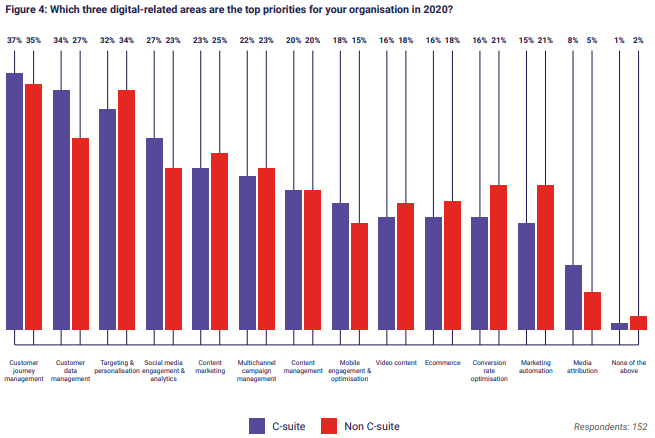 Your customer experience (CX) goals can be supported by many different digital technologies that have been around for a while or are emerging technologies:
Content personalization
Artificial intelligence (AI)
Machine learning (ML)
Serverless, cloud hosting
And many more
Digital Transformation Takeaways
Change can be a good thing! Technology is always evolving to continue to support users' needs. There is no one-size-fits-all digital transformation solution, so it is very important that your business doesn't cut any corners when you are in the planning and strategy phases. Remember, the four different facets of digital transformation as you are planning your initiatives!
Thank you, Adobe for the great information on data trends for 2020.