A•VIBE's Favorite Nerdy Thanksgiving Recipes
11-22-2019
Butterbeer - Harry Potter
A beverage that everyone can enjoy! This recipe serves 8 and takes around 10 minutes to whip up a batch.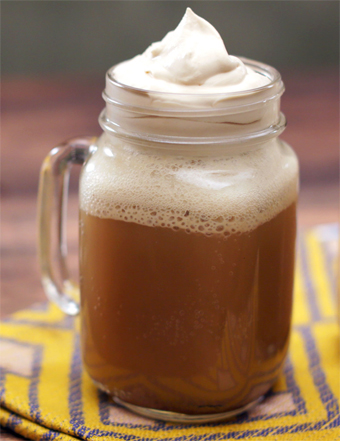 Image Credit: Tastemade
Ingredients:
2 liters cream soda, chilled
¼ tsp caramel extract
¼ tsp butter extract
Frothy Cream Topping:
1 cup heavy whipping cream
½ cup butterscotch topping
¼ cup powdered sugar
Instructions:
Use a large mixing bowl to whip heavy cream until it forms stiff peaks.
Add butterscotch topping and powdered sugar.
Mix the caramel and butter extracts with the cream soda.
Pour into mugs (clear mugs are best)
Top with butterscotch cream topping.
Recipe by: Fav Family Recipes
Almond, Citrus and Lavender Lembas Bread – LOTR
Take your Lembas to the next level - wrap them in green, leaf-shaped paper. This recipe makes about 36 pieces.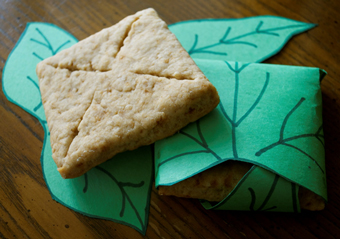 Image Credit: The Jolly Fox
Ingredients:
3 Cups Unsalted Butter, softened (this is not a typo, you need a ton of butter)
1 Cup Brown Sugar
1/2 Cup Honey
4 Large Eggs
4 Cups Flour
1 Cup Almond Meal (I made my own by blending almonds in a food processor)
1/2 Cup Slivered Almonds
1 tsp. Orange Extract
1 tsp. Lemon Extract
2 tsp. Vanilla Extract
3 Drops Lavender Essential Oil
Instructions:
Cream butter and brown sugar. Add honey, then eggs. Mix until smooth.
In a separate bowl, mix flour, almond meal, and slivered almonds.
Fold flour mixture into batter, adding the extracts & oil slowly. Mix until well-combined. Carefully fold in dried fruit (optional).
Refrigerate dough until it has stiffened a bit (at least an hour), then preheat the oven to 350F and roll dough out on a floured surface. Dough should be about 1cm thick.
Cut into rectangles, about 2.5 x 2 inches. Gently score the tops with an 'x'.
Bake on a greased tray for about 15 minutes, or until the bottoms of the Lembas wafers have slightly browned.
They can be stored for a few days or frozen.
Recipe by: Tea With Tolkien
Pumm's Pumpkin Soup – Legend of Zelda: Skyward Sword
Because a pumpkin recipe feels right! This recipe serves 6.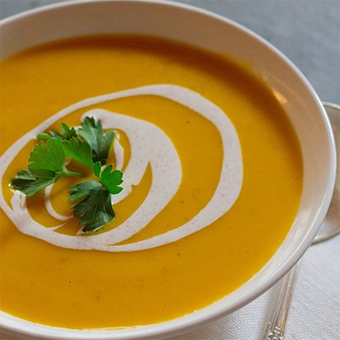 Image Credit: Food and Wine
Ingredients:
3 tablespoons unsalted butter
1 small white onion, chopped
1 clove garlic, minced
1 tablespoon firmly packed light brown sugar
1/2 teaspoon freshly ground cinnamon
1/4 teaspoon white pepper
1/4 teaspoon freshly ground nutmeg
1/8 teaspoon cayenne pepper
One 15-ounce can pure pumpkin puree
3 cups low-sodium vegetable broth
1/2 cup heavy whipping cream
Kosher salt
Crème fraiche, for garnish (optional)
Instructions:
In a large pot, melt the butter over medium heat. Once the butter is just beginning to brown, add the onion and sauté for 5 minutes. Add the garlic, sugar, cinnamon, pepper, nutmeg and cayenne pepper and cook for 3 minutes. Add the pumpkin puree and broth, stir to incorporate, season with salt and bring to a boil. Reduce the heat to low and simmer for 20 minutes. Stir in the cream and let cool for 10 minutes.
Transfer the soup to a blender (or use an immersion blender in the pot) and puree until smooth. If needed, add additional water or broth to reach desired consistency. Return the mixture to the pot or large a sauce pan. Serve warm and drizzle with crème fraiche.
Recipe by: Food and Wine
Peeta's Cheese Buns – The Hunger Games: Catching Fire
We couldn't forget rolls – might as well add some cheese to them! This recipe serves 12.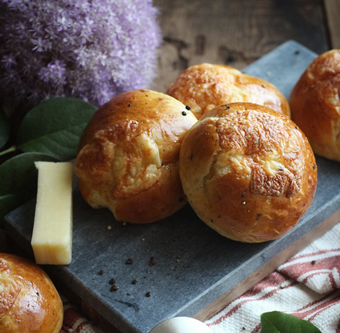 Image Credit: Feast of Starlight
Ingredients:
30g / 1oz - bread flour
¼ cup / 57g / 2oz - whole milk
¼ cup / 57g / 2oz - water
325g / 11.5oz - bread flour
50g / 1/5oz - granulated sugar
8g - yeast
6g - salt
1 - egg, large, room temperature
½ cup / 4oz / 112g - whole milk, warm/room temp
50g / 1.5oz - unsalted butter, room temp
110g / 3.5oz - gruyere cheese, small dice + more for garnish
1 tsp - cracker black pepper
1 - egg, large [for egg wash]
Instructions:
In a small saucepan, mix together the first amount of bread flour, milk, and water. Place over medium heat and stir the mixture while it cooks and thickens. Once it reaches a paste-like consistency, remove it from the heat and set it aside to cool.
Combine the second amount of bread flour, sugar, yeast, and salt in a stand mixer bowl. Mix together to combine the ingredients.
Whisk together the egg and second amount of milk. On medium speed, stream in the milk and egg mixture. Add the cooked flour starter and mixture to combine. Finally, add the softened butter and mix until it forms a smooth dough.
Knead on medium high speed for 10-12 minutes. The dough should be smooth and elastic. Check the gluten development with the window pane test.
Place the dough in a lightly grease bowl and cover with plastic wrap. Place the dough in a warm area for 1 hour until it doubles in size. Gently degas the dough and transfer to a lightly floured surface.
Divide the dough into 12 equal size pieces. Take one piece of the dough and gently flatten. Add a small amount of cheese and cracked black pepper. Fold the sides in towards the center and turn it over so the seam is now on the bottom. Roll the dough into a bun/ball shape. Repeat these steps with the rest of the pieces.
Place the balls on a lightly floured surface and cover. Let it proof in a warm place for 1 hour.
Preheat the oven to 350F.
Whisk the egg and brush each bun with the egg wash. Garnish each one with more grated cheese.
Bake for 20 minutes until golden brown.
Recipe by: Feast of Starlight
Elder Scrolls Sweet Rolls – Skyrim
Let's skip straight to dessert! This recipe makes 4 rolls.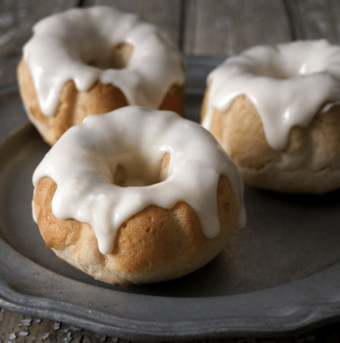 Image Credit: Feast of Starlight
Ingredients:
3/4 cup warm milk
2 Tbs. honey
Pinch of salt
2 tsp. dry active yeast
3 Tbs. butter
1 egg
1 ½ cups flour
For the Frosting:
2 Tbs. cream cheese, softened
1 Tbs. unsalted butter, softened
2 Tbs. heavy cream
1/2 cup powdered sugar
Instructions:
Preheat oven to 350F. Combine the warm milk and honey, stirring until the honey has dissolved. Add the salt and yeast, followed by the remaining ingredients. Mixing completely until you have a smooth batter. Spoon evenly into a 5" miniature Bundt pan. Allow to rise for 30 minutes, then bake for 15 minutes.
While the rolls bake, make up the frosting by creaming together the cream cheese, butter, and powdered sugar. Gradually add just enough heavy cream to get a smooth, thick icing that barely runs off a spoon.
When the rolls are finished baking, allow to cool for 5 minutes in the pan, then tip out onto a cooling rack. When they are completely cooled, spoon the icing over the tops of the buns, letting it run down the sides a little.
Recipe by: Inn at the Crossroads
Turkish Delight – The Lion, the Witch, and the Wardrobe
Have any many as you'd like, we won't judge! This recipe makes around 100 candies.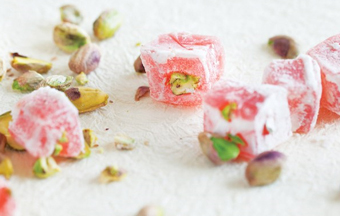 Image Credit: Rachel Been
Special Equipment:
Small (9" x 13") rimmed baking sheet
Heatproof spatula or wooden spoon
Candy thermometer
Large cutting board
Cooking spray or vegetable oil
Ingredients:
For the sugar syrup:
3 cups (575 g) granulated sugar
1/2 cup (175 g) honey
1/2 cup (120 g) water
Pinch of cream of tartar
For the cornstarch mixture:
1 cup (150 g) cornstarch
1 cup (130 g) confectioners' sugar
2 1/2 cups (600 g) water
1 teaspoon (3 g) cream of tartar
For the flavoring:
2 1/2 teaspoons (12 g) rosewater
2 cups (300 g) shelled roasted unsalted pistachios (if you can only find them raw, check out how to toast them yourself on page 284)
2 or 3 drops red food coloring (optional)
For cutting and dredging:
About 1/4 cup confectioners' sugar, for dusting the cutting board
1/2 cup cornstarch sifted together with 1 cup confectioners' sugar
Instructions:
Generously coat the baking sheet with cooking spray, and set it aside.
Make the sugar syrup: Combine the sugar, honey, water, and cream of tartar in a medium-size (4-quart) saucepan, and mix with the heatproof spatula to combine. Bring the mixture to a boil over high heat, and insert the candy thermometer. Reduce the heat to medium-high and cook, without stirring, until the temperature reaches 260°F/127°C (hard ball stage), about 15 minutes.
Meanwhile (keeping an eye on the sugar syrup), make the cornstarch mixture: In a large (6-quart) saucepan, whisk together the cornstarch, confectioners' sugar, water, and cream of tartar to combine. Once the sugar syrup reaches 250°F/121°C (firm ball stage), place the cornstarch mixture over medium heat and cook, stirring constantly with the whisk; it will thicken and boil quickly, 2 to 3 minutes. Turn off the heat, but leave the mixture on the hot burner; stir well a few times with a whisk, and set aside.
At this point, the sugar syrup should be close to 260°F/127°C (hard ball stage); when it reaches that temperature, remove it from the heat and carefully pour it into the cornstarch mixture. Stir well with the whisk to combine. Bring everything to a low boil over medium heat. Then reduce the heat to low and cook at a low simmer, stirring frequently with the spatula, until the mixture is thick and gluey and a light golden color, 30 to 45 minutes. Don't turn your back on it! You need to make sure to scrape the bottom of the pan with the spatula every few minutes to prevent scorching and lumps.
Remove the pan from the heat and add the flavorings: stir in the rosewater, pistachios, and food coloring (if using).
Wearing oven mitts, immediately pour the candy into the prepared baking sheet. Place a piece of plastic wrap directly on the surface of the candy to prevent it from forming a skin as it cools. Allow it to cool until it has set and is firm and cool to the touch, 6 to 8 hours.
Gently peel off the plastic wrap. Dust the cutting board with the confectioners' sugar. Run the tip of a paring knife between the candy and the sheet, and gently turn the candy out onto the prepared board.
Place the cornstarch mixture in a medium-size bowl. Generously coat a sharp chef's knife with cooking spray, and use a gentle slicing motion to cut the candy into 1-inch squares. Dredge the pieces in the cornstarch mixture until well coated.
Store the Turkish delights, layered with wax paper, in an airtight container at cool room temperature for up to 1 month.
Recipe by: The Liddabit Sweets Candy Cookbook