Daily Disruption with Data Silos
9-26-2019
What is a data silo?
Do you or any of your colleagues use your own spreadsheets or systems to track important company data? Do you share your spreadsheets with others within your organization? If you aren't sharing data, you are working with siloed data. Siloed data is data that is only available in one area or system; it is not universally available to everyone within an organization. Data silos are data that is not being shared with others and isn't stored within a universally searchable database.
Data is a huge factor in business planning, tracking, and forecasting; it should be easily accessible to employees and/or departments who rely on this data to perform their daily processes. If you experience issues accessing important data due to data silos, then you already know how much time of your day is spent searching for the information that you need.
How did we end up with these data silos?
Data silos are common unfortunately, especially in large organizations. Data silos can occur for several different reasons:
An organization is smaller in size and not quite ready to commit to a document management system or architect a robust and scalable database. Many times employees are using their own spreadsheets to manage various data throughout the organization.
An organization has purchased various third-party solutions for different departments. This can have a cascading effect on an organization because most of the time SaaS, or third-party tools are not customized to each organization's unique needs; this typically leads to organizations purchasing additional third-party tools that fill the gaps of other systems – this is what we call the Frankenstein effect and it isn't pretty.
An organization has competing departments. This type of company culture naturally encourages data silos and team separation; this is typically done to keep valuable data and different systems separate from other departments.
These are just a few examples of how an organization can find themselves in the predicament where data silos create challenges that can traverse the entire organization. If you already have data silos at your organization or in your department, it is inevitable that it will get worse. We urge organizations to not purchase additional solutions until the organization has evaluated "the why" for all of the different systems and tools employees are currently using.
What challenges will we face by continuing to have data silos?
A big issue with data silos is they will not help an organization grow. No organization can scale without a comprehensive view of organizational data; organizations NEED the ability to run reports on their data. Without visibility into the full picture of the organization, how can important decisions be made? They can't with certainty in this case, it requires communication with multiple departments to stitch together data that can be useful for decision making.
Other pain points with data silos are the wasteful steps in everyone's daily workflow processes. If a Marketing department maintains a different database or third-party system than the Sales department, this requires extra communication between teams to search and send information to different departments. Time is of the essence, especially in sales; the extra communication required causes unnecessary delays that can potentially result in loss of sales.
The scenario that we see most commonly is inconsistent data across the organization. Without a centralized database that everyone in an organization utilizes, data varies. Inconsistency occurs when multiple departments are creating and maintaining separate spreadsheets, often times for the same purpose or purposes that overlap others'. This leads to confusion between team members and again, ends up wasting valuable time during the day.
How do I centralize my data?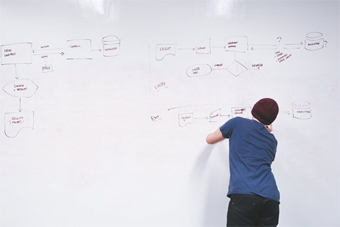 For organizations that have multiple departments, data silos, and multiple applications powering their business it is paramount that critical organizational data is centralized. Consolidating data sources is a greater task than adopting SharePoint or another centralized database; data migration from different platforms is not a trivial task. Outside of necessary data migrations, there can also be processes in place that people are accustomed to from using their own methods and tools for years. Change management and alignment are key when an organization is selecting a new technology platform that will be universal to the business. If your users aren't adopting the solution, what good is it to the team or the organization?
We offer an interactive, full day, Digital Transformation Workshop where our team and yours discuss current tools, processes, and pain points with your technology or lack of technology. We focus on aligning key stakeholders to agree on goals with technology that will provide the largest impact across the organization. During our Digital Transformation Workshop we identify wasteful processes that can be eliminated through improved technology. We also identify key metrics that can be tracked throughout the project which will measure the ROI the updates have on your organization; this can be in terms of saving time and/or money. If you are experiencing pain points with your organization's data silos, schedule a consultation with us to determine what technology improvements will centralize your data and have the greatest impact on your organization and users.